Travaux ethnographiques XII:2
Travaux ethnographiques de la Société Finno-Ougrienne XII:2
Timofej Jevsevjev
Tšeremissien rakennukset – Cheremis Buildings
Ethnographica Jevsevjeviana
Edited by Ildikó Lehtinen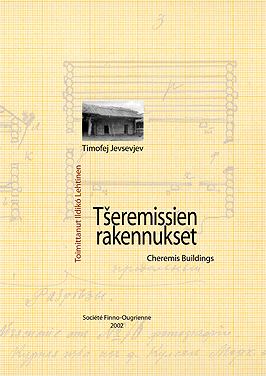 Introduction
Timofej Jevsevjev was an elementary-school teacher who, from 1907 onwards, acted as a Finno-Ugrian Society stipendiary scholar under the supervision of U. T. Sirelius.
The subjects of the material collected by Timofej Jevsevjev varied. As well as costumes, U. T. Sirelius asked for material dealing with occupations, fishing, hunting, cattle husbandry and bee keeping. In addition to these, a significant proportion of the manuscripts deal with buildings.
In Cheremis Buildings you can find 460 photos and drawings of Cheremis buildings from the years 1907–1913. The material includes cross and long sections, floor plans, details, overviews and verbal descriptions.
Samples of photos and drawings

Cottage door in the village of Az'jal.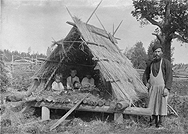 Brushwood canopy used as shelter from the rain, erected on the threshing ground. Village of Abasnur. The temporary shelter was used for sleeping while guarding the cut grain.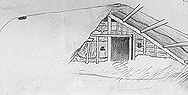 Front wall of kudö and left-hand side of roof.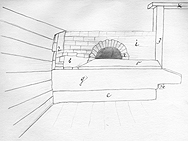 Stove from the front.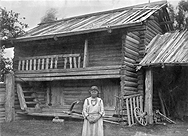 Large old-style storehouse. The lower floor is divided into two with a partition. The downstairs rooms are both used for storing grain, the upper floor is used for storing clothes and household objects.